The little lights aren't twinkling, Clark.
We somehow found the perfect Christmas tree....a block away from our apartment. It was still tied up with twine and laying on the ground when The Boy picked it up and said "I think we should get this one." He also suggested not even opening it up until we get home, because he had a feeling this was the perfect tree for our tiny apartment.
He was right.
It's no more than a few inches taller than me, and I'm 5'5" on a good day. We decorated it in record time. And it's beautiful. Now all it needs is an abundance of presents sitting underneath, and all will be right with the world. At least I think it will be. We're both not feeling the Christmas spirit. I thought I had it for a few minutes, but I was wrong. It was probably all that mulled cider I drank. Indigestion can easily be mistaken as the Christmas spirit.
I could be slightly stressed out over Christmas knitting. I have to finish my dad's sweater by the middle of next week. I can't give him the thing unblocked, that would be uncivilized. I'd say I'm about halfway done the body, then I have to do the sleeves. I really hope I get it done in time. I have a vision of myself, frantically knitting into the wee hours of Christmas morning and handing him a damp sweater that smells a bit too much like a wet sheep. Anyway, here is what it looked like two days ago:
Not bad. Of course, that's not the only picture I took of it: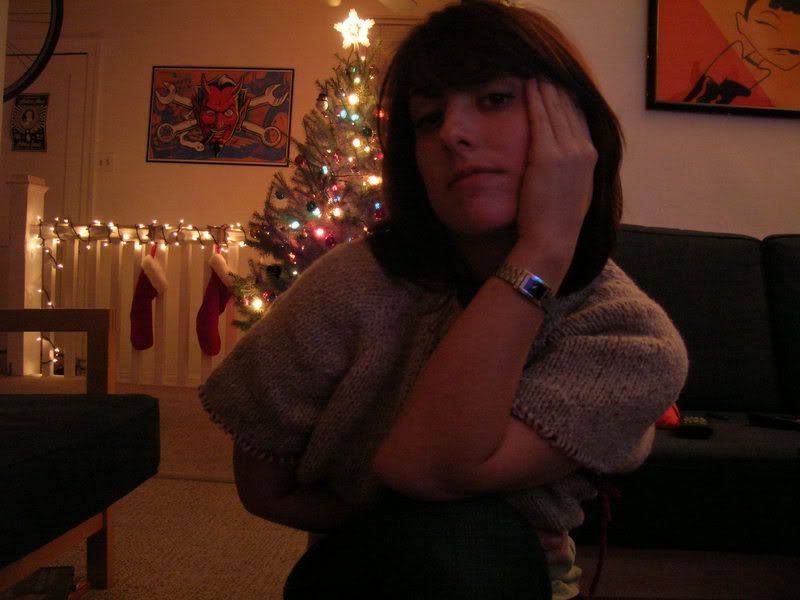 And yet again, I can't post any more pictures at the moment. Until tomorrow, I suppose...or maybe just later in the day. Who knows?